Conversation with Seth Olinsky of Akron/Family
Interview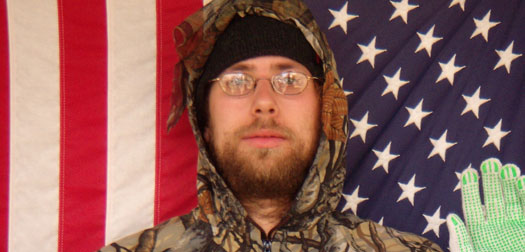 I'll never forget the first time I heard Another Side of Bob Dylan. Driving by myself from Ithaca' N.Y. to Buffalo' N.Y.' it came blasting out my speakers and resonated with my soul like angels singing from the heavens. The connection was so deep and powerful-it was hard to imagine a time when this album wasn't in my life' as it felt like it was always part of my core and I just happened to fully realize it for the first time.
That mysteriously profound connection with music is something you hope everyone experiences: finding something that stimulates your humanity perfectly. It skips over any introductory level of doubt' confusion or uncertainty' and the depth in what the musicians are trying to convey is immediately recognizable.
Seeing Akron/Family play for the first time was that kind of experience. It was totally inclusive and they didn't hold anything back. The comfort in their own skin' matched with their sincerity' energy' openness and musical sensibility' made for rock music that I knew existed' yet I was hearing it for the first time. It was easy to be with them completely' and the cynical skeptic inside never arrived. It was too good a celebration. You had jump in and get off on it.
Talking with guitarist/vocalist Seth Olinsky' I felt reassured with my instinctual feeling towards the band. He's a very open' smart musician' who embraces the philosophy that changes only open new possibilities for making music. Akron/Family is at the beginning of a new chapter-the achievement of their latest album Love is Simple and the departure of guitarist Ryan Vanderhoof from the band closed the door on the last. Seth makes it clear that as one door closes' several new ones open for the music that Akron/Family can make.
This conversation took place in December 2007' just as the band returned home for a tour in Europe.
Mike McKinley: You just returned from touring in Europe' right?
Seth Olinsky: Yeah' just got back from Europe. Iceland was the last gig. We played our first time there. It was good! This tour was mostly focused around the U.K.-England and Scotland. We've played London a few times' but we've only done one kind of tour of England' playing Leeds' Newcastle' and Nottingham' and whatnot. This was our second time there in about a year' and there's definitely growth-you know' bigger crowds' and people were more aware of what we were doing.
MM: I've talk to… well' mostly jazz musicians about the difference between playing in front of that audience and the respect for the art there as opposed to here. What do you find with your music that….
SO: The thing with Europe is every country is' from our experience' pretty different' from country to country' just the style of music that they're aware of' the way that they… like some countries' some parts of Italy' they may talk even though they're really enjoying the concert' whereas in the Netherlands' they're really focused on what's going on.
But yeah' there are some differences on the whole. Europe' actually-excluding the U.K. -from my basic understanding' the arts are funded partially through the government' so the venues tend to be a little more… like the stages are nice' and the systems are better' and there's more employees' and it's a little bit more approached like art I guess' as opposed to rock [laughter]. You know?
MM: Right.
SO: Or like a club approach. But that being said' there's also a little bit of a stiffness in the crowd sometimes in Europe' where they listen really well' but they don't really participate or jump up and down and scream and sing. And our show can be participatory sometimes or really based a lot on the energy that we're getting from the audience.
So sometimes you're playing a college in America and the kids just go crazy' and then you go over to play in Scandinavia and the crowd loves it' but they just sit there. Or they stand there. So there are ups and downs to both' I think.
MM: That's interesting because the show you present is really an inclusive…
SO: Yeah…
MM: We want you to come in' come with us' and we're going to react to how you react. That kind of thing.
SO: Yeah' exactly. And I don't know if it's a European classical thing or whatever it is' but sometimes they tend… well' I think the more times we go somewhere' the more the audience is expecting what we're coming there to do and they're excited about it. So the energy is there' regardless of where it is.
how there's still a lot of hype surrounding the band and how you're noticing a lot of people come out and then they see how other people react and they don't really get it. [laughter] And so the people that do' they join in and they want to go with it' and then the other people that don't get it' leave.
SO: [laughter] Yeah' that's kind of a consistent thing. We just played in Iceland and it was the first time there' and I think because of whatever record label we're on or whatever group of bands we get grouped in with' people' I think' like… I don't know. Let's say the audience in Iceland was a hundred people and half of those people knew our music and were really excited about it' and then there was another half that just kind of heard about it or' you know' thought it was the cool thing to do or whatever' and went. And usually those people end up leaving or trailing off towards the end of the show' and the other half of the crowd is just really excited' engaged' taking part. And they're the ones that tend to be' you know' more blown away by it. But then it's cool because they tell their friends and then the audience builds from that core. You know?
MM: Yeah' totally. Let me ask you a little bit about the album [Love is Simple].
SO: Sure.
MM: Still new…ish.
SO: [laughter] Yes! Well' for everyone else except for us.
MM: Yeah' exactly. Well' with that being said' how do you feel about it now?
SO: Well' truthfully' I actually haven't listened to it since it came out. It took us about' I guess' half a year to really make' and' as what happened with most of the records we make' it's like we pay so much attention and are so involved in every detail' that by the time we get to finishing all the artwork and all the mixes and the masters and everything' it's like you've really almost lost complete perspective on it' you know?
MM: Right.
SO: So it's kind of like' OK, I think it's good. I have good memories. And hopefully' in two or three years' I'll be able to listen to it. [laughter] And appreciate it. But I don't know-I think we were happy with it. I think we got to do a lot of things on this one that we didn't get to do on some of our other records. And the other part of it is' we worked with a different producer on this record. Andrew Weiss is his name. He does the Ween records. And I remember him telling us that Hall and Oates didn't feel like they got it right until the tenth record.
MM: [laughs] Right.
SO: So there's a certain sense to each record. I feel like we learn something new' we get something right' but then we also get something else wrong. And oftentimes' you end up learning from the things you get wrong' more than you do from the things you get right. [laughter] You know what I mean?
MM: Sure.
SO: And so I think that on this record' it was just another step in the learning process. I'm happy with the record as an object' but I also think that we grew tremendously as a live band because of how we worked on this record' with things that we were focusing on developing. And things that maybe I don't feel like I totally captured in the record actually ended up really benefiting us in the live group and as individual musicians. So we grew a lot around this record' which' for me' stands almost just like a photograph of a moment in time. And the whole moment has all these different elements' the record just kind of being one of them to us.
MM: Yeah' exactly. It's interesting you mention kind of looking back. Like right now' it just is what it is; you're on to the next thing. What about the other albums you've put out?
SO: Well' like recently' I actually heard our first record' or part of it' and I was like' Oh wow! That sounds cool! It's like… I don't even remember doing that! You know? [laughter] It's like you get far enough away and you can almost appreciate it as just an album that someone made in a sense. Which is nice. You can get to some level of objectivity. I'm sure ten years from now…. Again' our producer Andrew was talking about how you can really never hear your music until you forget completely how you've made it. Because otherwise' it's like when I listen to the new record-I just hear all the EQs that are on one track' and there's so much information that I hear based about all the elements that went into making it.
MM: Sure.
SO: It's like jazz musicians. I studied jazz in college' and at a certain point I couldn't listen to jazz anymore 'cause I studied so much of it that whenever I heard it' all I heard was almost like information. I heard what the bass player was doing and the harmonies and piano and the rhythm and I just dissected every element and I lost a lot of perspective on the whole of it' if that makes sense.
MM: Oh' yeah. Absolutely!
SO: I kind of gave up playing jazz for a few years' and then recently' I've just been totally enchanted again with listening to it because it's gotten far enough away from my analytic brain that I can just appreciate the whole of the sound again.
MM: And just the feeling of it.
SO: Yeah.
MM: Well' that's cool. You know' it's funny' because I've been listening to the first album and listening to the last album' and' I don't know. I mean' obviously the band has evolved a lot' but there's something really nice about how sparse the first album is.
SO: Yeah! I think there's some qualities-like now after I feel like we've finally gotten to this point in our career' or whatever you would call it' where I feel like Love Is Simple was kind of like an end chapter to this thing that we've been working on' where the first record was mostly done at home and kind of spent a lot of time laboring over little things at home and then that gave us the opportunity to go out and tour. And since then' there's been so much emphasis on touring and playing live that almost all the music we've created has been revolving around the live band and playing music and touring live and developing it that way. And I think we've finally gotten to a point where we've developed that band to a certain point' you know the idea that we had' and now we look back and we see the first record and we're like' Oh' wow! There were some really creative things we did there' because the songs weren't oriented around being a live group.
MM: Right. You can definitely hear that.
SO: So I think we're finally at a point again where we want to include some of the things that we did on the first record with some of the things that we've now learned from being able to play as a live group. And we want to kind of reinvestigate the way that we write music and record music. Because there's definitely something to be said about the first record. We didn't have all the resources that we needed and were forced to improvise and use' you know' kitchen appliances for percussion or' like' make things up. Take hours just to labor over some little thing that later on we didn't have to do.
MM: Yeah' it's kind of like being young' that young feeling' I guess. Where you're trying to make the coolest shit possible with what you have.
SO: [laughter] Totally. Exactly. And you don't really know how it works or you don't know how to do it. And then later on' you learn how to do it and you look back and you're like' Wow! When I didn't know what I was doing' it was actually a little more original' in some senses.
MM: [laughter] Right! Yeah' totally. That's really cool. What about some of the songs? On Love Is Simple' I really connect with "There's So Many Colors" and in context how the whole idea kind of goes into "Crickets." I don't know-I feel like it's good for the head…. Let me explain.
What I took from that was it reminds me of a point in my life' where I think I dropped a lot of baggage. I think that's what I'm getting from it. And that might've been induced by tripping for the first time' or experiencing music on a higher level for the first time and just getting older and wiser. I feel like that composition really represents that time. And I don't know if that's a fair assessment of what you're talking about. [laughter]
SO: [laughter] Of what the song's about?
MM: [laughter] Yeah.
SO: Well' the actual-I mean' I don't know if I should even go into my idea of where the song came from. If I go into my idea of where the song came from' I don't want to necessarily change your idea of the song. I think that's a wonderful thing about music.
MM: Yeah' it's open like that.
SO: And the openness that people can bring themselves to and' you know' figure out things from there. I mean' mostly it was just kind of a poem inspired by… We were just driving in Canada one day and driving through the Rockies. And a lot of the lyrics and the imagery in the lyrics... It was merely just writing about those things.
MM: Like the passing landscapes and the feeling and…
SO: Yeah' just talking about the passing landscapes and almost a stream of consciousness about that. But' of course' the music is really dynamic and goes through a lot of areas' and so there's surely room for you to bring your own interpretation there. I definitely don't want to discount that' although that wasn't necessarily consciously put into there.
MM: No' I think that's right. I think it's all relative in some degree' some kind of state of consciousness' where things become a little bit more vibrant or you become aware of them.
SO: Sure.
MM: Or see them differently. So yeah' that's kind of what I took from it' after listening to it for a while. You know?
SO: Yeah. But also' too' the idea there's so many colors without the dirty windows' for me' is a metaphor' a perceptual metaphor of some sort' and it could be taken in any number of ways' but I was looking at the landscapes through a dirty window in the van and I'm like' Wow! You know' it's really beautiful out there. And I was just in my mind observing the passing landscape and how beautiful it is' and then I roll the window down and it was even completely more beautiful' with all these richer hues of purple and all these things that had kind of been grayed out by the window. [laughter] And so' you know' the idea of the potential of like you were saying' dropping baggage or whatever it is that… they have scientific studies that like… when people are depressed. Like one of the number one things they notice is that color is not as vivid. As soon as a depressed person becomes less depressed or happier' the first thing they notice is like' Oh my God' colors are so beautiful! Colors are so vivid! And I think they've even tested on little parts of the brain that they can actually trigger for a depressed person and they can become happy and they're like' Whoa' red is more red! Purple is more purple! And so whether it's a depressed person becoming happier or' like you said' you're dropping baggage' it can be looked at like that. Or whether it's someone having some sort of eye opening experience or whatever that experience may be' the idea that the window' perhaps being a dirty window…
MM: Yeah! No' that's exactly it. Yeah' it was like having some kind of awakening. Yeah' that's exactly it.
SO: Sure. And I think that awakening' transformative experience-I think any number of traditions or studies or whatever-it's a similar experience just using different words for different people' according to whatever it is that they think or believe. I have no problem with that.
MM: Yeah. Have you had experiences like that playing music?
SO: Umm… hmm… Yeah' I don't know. I think when I was younger I maybe had some more individual moving experiences with music. Even like tracing back to something as boring as like when I first started playing guitar and I joined a jazz band and it was the first time I had ever really played with other people and we played "Wipeout." I remember the first time that the drum part started and then the bass came in and then the horn section' and then I started playing. And it was like all of a sudden you were a little part in this big thing that was organized and moving but beyond your control. And there was something definitely triggered in my brain' just that very first time of being involved in something and just loving that. There's other peak moments or peak experiences when I was younger around music' and that definitely informs my sense of music' being like a vital and important part in my life. You know?
MM: Yeah.
SO: But more and more' it's a little more even keeled I guess' from night to night. There are some nights that are just electric and inspiring' and you feel like you're on fire. The music is just happening. And then the rest of the time' it's just kind of up and down. I was laughing about it recently. I guess it was actually right after the last show you saw. We played Boston right afterwards' and we were playing New York the night after Boston. And all our friends come out in New York' and New York's always kind of this big show for us' and we wanted to do a great job and like really put on something special' you know?
MM: Right.
SO: And we were in Boston and before we went on we were brainstorming all the things that we wanted to get right for New York and Boston almost slipped our minds and became' like' who cares about Boston. And we went out there and it was just an amazing show' you know' for whatever reason. No one was even trying' too. It just kind of happened. The crowd was great' and it was just one of those shows. And in the midst of performing the show' I just remember' realizing like' Wow' in some ways' it's just out of your hands when those nights happen. And then they do.
MM: Yeah' you can't really plan for that to happen. [laughter]
SO: I was thinking about the Grateful Dead. I grew up listening to them and' you know' there's something wonderful about going out every night and you try and the audience is there and hopefully they're trying' too. That approach. My feeling is sometimes the audience is really tuned in and really prepared for the music to be great and the band isn't quite hitting that night. Or sometimes vice versa-the band is ready to go' but the crowd sucks. And so you get that rare night where all the stars are aligned' and that's a great feeling. I don't know if it's transformative' in the way that you were asking' but there are definitely highs.
MM: Yeah. I mean' that's what you're going for.
SO: Yeah. When you talk about transformative or highs and lows' the way I look at it is a little more long term. The thing I've always liked about music is that it's been a good push-pull relationship with me through my life' where sometimes I feel like I want the music to go further. So I have to figure out ways in my own life to push it forward in some sense' whether studying music or studying other forms of music or even studying other forms of philosophy or whatever to kind of push it to the next level. And then sometimes I feel like music just shows up and it's like' this is what we want' and then I have to get my shit together. [laughter] Get myself dialed in to make that next step to the music. So it's kind of like a push-pull throughout my life' year to year' here' there' few years' you know' whatever. It pushes me' and I push it.
MM: What kind of stuff is doing that for you now? Like what are you surrounding yourself with to push to the next level?
SO: Well' there's a few different things going on for me. Musically' the band and me' we've gotten into African music lately. So I've been listening to a lot of
music from Mali. There's all this great guitar tradition from Mali' from Ali Farka Touré
and his student' Afel Bocoum, who's actually really amazing. My girlfriend turned me on to the record I've been listening to for a year. And we just playedin Holland' the first show of this tour' and it turned out his band was playing right before us on the same stage. And they all spoke French and we were speaking English' and they didn't really understand us' but we were like' "Oh' we'd love to play with you!" And they ended up inviting us onstage to play their last song' so it was really an amazing experience-just recently putting a lot of energy into listening to this music' you know' and then all of a sudden being onstage with Ali Farka Touré's main student and this guy whose CD I've been listening to for a year.
We also had an experience last summer where we were playing at Roskilde in Denmark and our drummer met an African drummer and invited him to play with us during our show. He ended up bringing his whole troupe' and there were like ten drummers and seven dancers and it was just this huge affair onstage' but it was spontaneous.
MM: Wow. That's awesome.
SO: Yeah. So I think musically' we've been inspired a lot by the singing and the drumming. And then the guitar tradition is pretty amazing there' too' just stemming from kora playing. A guy named Toumani Diabaté. He's kind of the more famous kora player from Mali now. So this musically has been a lot of inspiration to me recently. I also moved out of New York' back to where I'm from in Pennsylvania' and finally can afford and have space here to set up a studio and set up something that's a little bit more… You know' in New York it was always month-to-month' and I would go on tour and sublet my apartment and come back' and it just became really hard to have some sort of continuity creatively' outside of the band. We'd come home for a month and I'd have to reset up my stuff' and then I'd have to pack it up and go. And now I'm getting to have a bit of a studio location here that's going continually even while the band's on tour' so I can work on other projects. I'm starting to do other things outside the band and then also work on writing music' recording music.
MM: Yeah' that sounds good. A little more discipline' instead of the chaos.
SO: Yeah' exactly. I went to school for a few years and then dropped out' got frustrated' and have mainly been writing' performing on the road' and doing this. And I'm getting to another period where I want to get a little studious again' get some more information' learn some things' master some new ideas.
MM: Talking about the band playing live and how much touring you guys have been doing in the last couple years' how does it feel now' with Ryan [Vanderhoof] not with you?
SO: Yeah' Ryan just left this July. We played some festival dates in Europe without him' and those were the first dates.
MM: Did you play as a trio?
SO: No. In July' we ended up-because it happened so suddenly-we ended up… Our friend' Keith Wood' has a group called Hush Arbors. He's living in London now. He also plays with Six Organs of Admittance' Sunburned Hand of the Man' and Current 93. He plays with a lot of different groups. We had him fill in for the two European dates. And the second of those dates' we had all the 17 drummers onstage with us. [laughter] So it was kind of like an improvised 20-piece band' which was fun.
MM: [laughter] Yeah' I bet.
SO: You saw us in September' when we had the seven-piece that we were touring with.
MM: Right.
SO: And then recently in Europe' we just did the trio' a three-piece for the first time.
MM: How did that go?
SO: It was interesting. I mean we all knew that we only had a few weeks to prepare between our October tour' which was seven-piece' and then this European tour. And so we just made the decision' and we were like' we know we're not going to have a lot of time to rehearse' but we'll just kind of make it up and force ourselves to try it. And it ended up being really good! We forced ourselves to write new material' and that went great' but there were ups and downs. It's definitely something that if we decide to go that way permanently' it's going to take some discipline and a reworking of ideas. But there's also some great things' just because the three of us have played together so long. We can be so much more spontaneous and take quick turns here and there' which is really a great thing' too.
MM: Yeah' I've heard a lot of musicians talking about that-instead of being on a train' you're in a sports car now.
SO: Yeah' exactly. And that was the thing about the seven-piece. Although the seven-piece had this great momentum and this great strength to it. It's like' if one person decides to jump ship and go off this way' it's like the train has so much momentum' it kinda just keeps going. And the other person's off' floating over here. [laughter] Whereas with the three-piece' everything is so important to the whole of the music that if someone goes off to left field' everyone's kind of got to deal with. You can't not deal with it. I think the difficult thing about it is that there's so much more musical responsibility from each member that it was a little bit harder to jump. Like with the seven-piece' we could just go out with the audience and really grab their attention and give a lot to the audience. With the three-piece' there was a little more energy focused on interplay between the three of us. Do you know what I mean?
MM: Sure. Yeah' definitely.
SO: It was focused a little bit more inward than outward. But if we do it more and get more experience and more confident' I think we could learn ways to churn it outward as well.
MM: Yeah. Is that the plan? Or is it kind of up in the air right now?
SO: It's kind of up in the air. I mean we have off until March' which is nice. We haven't had three months off since we started the band. [laughter] So we're gonna write some new music. I think as far as writing and recording' we're gonna stick with a three-piece and then augment it when we feel like we need to for the recording. We all love working with all types of different musicians-older' younger' more experienced' less experienced. That's something we all cherish and enjoy' so there's definitely the opportunity for that. And then touring-I don't know. I think we all decided that rather than just replace Ryan with someone who also sings and plays guitar' we wanted to see where our creative fancy took us and have it be determined in that sense' you know? Whether this tour calls for a horn section or we want to hire ten drummers for a few years' just let it be. Wait and kind of see what the space creatively calls for musically' as opposed to just kind of going by habit and saying' OK' this person left; we need that exact same thing. And let's just keep on going and not pay attention to what happens.
MM: Right. I imagine that's really difficult' to lose…
SO: Yeah. No' it definitely is. Fortunately' it's not because of anything personal. We're all still great friends with Ryan' and Ryan definitely had a hard time touring as much we did. Touring is not the most fun thing in life. Like I said before' when I was having a lot of time and not having any creative continuity outside the band' you almost start to feel like your life is being swallowed by the momentum of the band. And I think he just personally had the hardest time with that and wanting to do other things with his life and wanting to have energy to vest elsewhere. It was a really hard decision for him because he loved playing with us as well' but the last few times we've seen him' he's just been so happy to be living a more normal life. With a job and regular hours and having time to focus. He's starting to teach guitar. It just kind of works better for him.
It's definitely a hard process and hard emotionally for us. And then all this music that we designed so specifically around the four people and what those four people could do energetically' technically' having to rearrange all that music or cut some of that music out. At the same time' like I said before' I feel like Love Is Simple was the end of an era of sorts' whatever that means. So although it's been difficult' it's also been exciting because it forces us to reevaluate where we're at and what we can do. And it's almost like it felt like we had this box that we were living in' and now we get to shatter the parameters of the box and do whatever the hell we want.
MM: Yeah' definitely. I like what you're saying. One door closes and all these other doors open.
SO: Yeah' all of a sudden you realize' like' Whoa' we can do whatever we want! [laughter] We can make an R&B record if we want. We can never release another record. Sometimes when you get into some sort of a habit or pattern in life' you forget that there's so many myriad options out there for you. So it's cool. It's real. It happens. We're working on it. And it's been good.
MM: Well' I love the openness of the band. I think that's a great thing.
SO: Yeah' cool. I hope that it brings good things for other people' too. Openness' I think' is a good quality in life.
MM: Yeah definitely. I immediately connected with it because of that. It's just funny because-well' you know how it is-just the shit you have to deal with. Like what you were just saying-Hey' maybe we want to make an R&B album or we want to bring in more of this African sound' bring in lots of drummers' do whatever. And I was reading a lot of the reviews of Love is Simple and it's like' you make this music and then people expect it to be that way forever.
SO: Yeah' sure. And it's really bizarre because one person likes the first record and then they don't like the second record because it doesn't sound like the first. But then someone else likes the second record and they don't like the third record 'cause it doesn't sound like the second. [laughter] And it's funny' too' because I remember when I was 22 or 23' I really liked Jim O'Rourke. You know who Jim O'Rourke is?
MM: Yeah' vaguely.
SO: I really got into one record of his' and I started seeing that he was involved with all these different musicians' and I was like' Wow' this guy is really cool! So I started to buy a CD here and there. And I would pick up one CD and it could be totally different than the other one. And I was like' I don't like this! And then' you know' a week later' I'd come back to it. And then after a few listens' I'd be like' Oh' wow' this is great! I really like this! And then I'd pick up the next one and the same thing happened every time because they were so' to me' unrelated to each other' especially because I didn't buy them in chronological order. But I really grew to respect and love the fact that every time I bought one of the records' I hated it. And then I really liked it more than the last one' because it's not what you expect. So at first' you react negatively to it just because you have some sort of expectation built up toward it. And I think that a lot of the music that has stood the test of time for me' that's my favorite music' whether it's… I remember the Neutral Milk album and the first time I heard it and I was like' Eh' it's OK. And then 12 times later I'm like' This record's amazing! [laughter] Or like Fleetwood Mac's Rumors. Things that take time to grow on you often times end up having more longevity.
MM: Yeah' totally. As your taste changes and your ability to listen becomes more refined.
SO: Yeah' sure. Your taste changes-I mean' that's a huge one-and then also just expectations. I guess to some people it could seem pretty random stylistically' as we move from one CD to the next' where to us it doesn't seem that different at all. It's just because' for us' there's a logical line that moves in time from one to the other' and then we made these changes in that time' and then it just becomes these documents of this more fluid growth. I mean' have you ever seen one of those Beatles books that has the daily logs of their studio hours?
MM: No.
SO: They're studio books and they have a day-by-day. You know' like' John comes in with "Strawberry Fields" and they track it this way. And it talks about the microphones they used and the amps and it's pretty nerdy' but pretty fun. [laughter] If you look at those books' you get the sense of this day-to-day' where it was just like Paul brought in "Penny Lane" this day' and then George brought in this. And then they wanted to get someone to do backing vocals' so they got some girls from outside. And then they got the orchestra. And you get this sense of this day-to-day thing' where it was like in a way… for me looking back' you know' I wasn't around then' and it's like I have these very distinct ideas of Sgt. Pepper's and "White Album" and Revolver and what each album is' with these very strict boundaries and walls. And when you look at this day-to-day' it kind of seems like here are these guys that were just coming up with ideas and working on them day to day. It was just a weekly process. You know what I mean?
MM: Yeah.
SO: And then they'd get to one month and they'd be like' OK' these songs fit together' and they release them as a record. And it seems more like a linear line of just ideas growing' and every project was this distinct' complete' totally different idea.
MM: Yeah' this is what we are now.
SO: Yeah. It was just some guys coming up with a bunch of different ideas and just going for it day after day. It makes a lot more sense in a way. It's like way less mysterious. And I think-not to compare us with The Beatles' because obviously The Beatles were The Beatles-but there's a certain sense to just things growing' week-by-week. One tour happens' and we change a little bit that tour. And the next tour happens' and we change a little bit that tour. And then all of a sudden four tours have gone by and we record a new record and it seems like we're a different band from the time before. You know?
MM: Sure. But I guess there's a lot to be said of that connection that you have with the music you play. I think it's probably like a relationship you can't really describe to someone else' how deep it might be' making music on that level. So what is something that you guys butt heads on? I mean' is that frequent' where you're always like no' this is not the way it should sound?
SO: No. I mean' that happens in any relationship with human beings. You know what I mean?
MM: Sure. You're working that closely together.
SO: Yeah' whether it's a romantic relationship or a family relationship. So being in a band' it's really complicated and especially being in a rock band or being a performer. There are egos involved. And there are all myriad levels of ways that little bumps in the road come along. It definitely can get hard' especially in a band where we try and do everything evenly and everyone has an even say. Sometimes the littlest things can be so complicated to get everyone to agree on' whether it's the day we fly to Europe or whether we should do that gig or whether we should do this song or that song' all the way to whether this guitar tone should be used on this part of the song or not. But on the flip side' I know some friends who are in other bands' where maybe the singer/songwriter is the main guy in the band' and everyone is just kind of auxiliary to that person. And the one guy gets to call all the shots and the other guys don't care so much. They just do what they're told' or it's more of a professional gig for them. And you can hear that in the music.
And there's something to be said for the fact that we're all so invested in what we do' where we care so much that it bothers us that that cymbal doesn't sound right on the bridge to that song. Even though you know the drummer is going to be upset if you tell him that you don't think the cymbal sounds right at that point' you care so much that it's more worth it to go through the fire of arguing out which cymbal is better. [laughter] Because you really care. And I think as we're growing as a band and people' one of the biggest parts of the whole thing for us is kinda of-I don't know whether it's psychological or emotional-but it's going through that experience with each other and learning how to communicate and learning how to let each other care a hundred percent for the music and still have room for everyone to have that much care for the thing.
And I don't know-I bring it up a lot-but like the idea that The Beatles are this huge icon' and being a band' you know' everyone looks to The Beatles as this behemoth of an icon' and in a lot of ways' they didn't get it quite right. They ended up breaking up and not working together and not being able to handle each other's egos eventually.
MM: Yeah' totally.
SO: And I think that there's something to be said for trying to maintain the amount of control' because I mean that's the thing with us' all three of us have the potential to write and record something all by ourselves or lead a band. Like everyone's a multi-instrumentalist and is confident in that sense and has good ideas. And trying to really learn how to trust and believe in each other more and more-I think that energy that we put into it on that level really ends up eventually coming out in the music. And I think sometimes it can make the music sound better' in a way more subliminal or unconscious way.
MM: Oh' sure.
SO: There's that level of involvement and intention and thought and care put in' just in making it.
MM: Well' you mentioned trust in there. That seems to be a huge component.
SO: Sure. I remember seeing an interview with Elvin Jones' you know' Coltrane's drummer. And he was saying' "Man' we were up on that bandstand dying. You had to trust each other so much. You had to be willing to die for a motherfucker." [laughter] And I was like' that is way more gangster than N.W.A or any rap group I've ever heard of. I mean' being up onstage and being willing to die?! [laughter] And if you listen to late-period Coltrane' it's like Elvin Jones' I just visualize him with like flaming swords' running in front of Coltrane' deflecting all the demons. And it really does feel like he's in the heat of the moment' whether it's mythical or Vietnam or whatever. You feel like he's really there. There is a battle together' and it's like if one of them is going to get shot down' the other is' too. And there's something about that feeling' that vitality' that investment of trust between each other. It takes it to another level.
MM: That's it' definitely.
SO: You know when you're in L.A. or whatever and you see some songwriter who has like the A studio dude ripping some sweet guitar leads with him' it's cool' it's good music' it works. They know what they're doing. The songs are good. But that extra notch of' like' you gotta be willing to die for a motherfucker' it's not there. [laughter]
MM: Right' exactly.
SO: That dude is not willing to die for that other dude.
MM: Yeah' and you can hear that in the music.
SO: Of course.
MM: Yeah' that's some kind of mystery. But that Coltrane quartet' when they were out there playing' it feels that way. They're that in tune with each other' and it's like immediate.
SO: Yeah' totally. And to me' I find that energy all over the place' but like that same vitality of just moving forward so quickly with such velocity. And that feels great-and scary.
MM: But don't you have that relationship to some degree?
SO: Yeah' I think so. I mean' and that's what I was kind of getting into because you asked about what things are hard or challenging' and that's exactly the thing that is challenging' the fact that it is scary and it is complicated and it is hard' that we all care' and that it's an emotional thing for us' and it's tied into our lives in so many different ways. There's a lot at stake' you know? We all have a lot at stake' and so that is the thing that is hard. But it's also the thing that takes the music to that next level.
MM: Do you know what those guys bring out of you?
SO: As opposed to someone else?
MM: Yeah. Like whoever you might be playing with. I know it's a new experience and it might bring something out of you musically' but it seems like those guys' there's just that probably unspoken kind of thing that just exists at this point.
SO: Yeah. I guess it's unspoken. We all have a language developed musically and a pure language as well. We all have these shared reference points of experiences and music that we listen to' things that we've gone over' terminology that we've just made up. Someone says "shiny" and we all know exactly what they mean' whereas if you find someone else' they might not know what we mean when we say "shiny." [laughter] You know' like' "Make that part more shiny" or "Make that part more purple" or whatever. [laughter] There are all those languages that are there. And energetically' I think there are all sorts of good and bad things' responses that we have' things that we're able to bring out of each other' challenge the other person to really step up in these parts. And those are all good things' you know? Sometimes you know that the other person can do this a little better and you challenge them to do it or you inspire them to do it. And there are negative things' too' habitual responses we have for the way that he chews his gum or packs up his snare drum or' I don't know' you know ridiculous things like that' too.
MM: [laughter] Right.
SO: So there are all sorts of responses we elicit out of each other. But I definitely think as a group' our communication is more advanced musically than it is as people. Like I think we're still trying to catch up with the musical communication on just a day-to-day level. Sometimes it can be really hard to explain to each other each other's ideas or really express something. And then we just start playing and it's like' Oh' it just works out that way.
MM: That's great. Well' it's been great to talk with you. And thanks again for writing that piece on Woody-great stuff. [Seth wrote the "Musicians on Musicians" column on Woody Guthrie for the Nov/Dec 2007 issue of State of Mind.]
SO: Thanks for asking me. Did you know that his daughter' Nora' was trying to get in touch with me? I thought it was a pretty wild thing. I never' in my wildest dreams' thought that would happen.
MM: Wow! No shit.
SO: Yeah' so it was pretty cool! I wrote a little thing on Woody Guthrie for you guys…
MM: …and Nora Guthrie gets in touch with you.
SO: His daughter emailed and she's like' "You know I was really moved and really impressed by the article' and I want to write him a letter for the holidays." We'll see. I haven't heard back from her yet' so I don't know if maybe my email didn't get to her. But it'll be pretty cool to touch base with Woody Guthrie's daughter.