Folk of ages | Fire on Fire | Review
thephoenix.com | CHRISTOPHER GRAY
Fire on Fire snag a label, make it count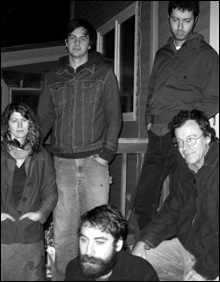 LIGHTING THE WAY: Fire on Fire.

Young God Records is one of the country's more prominent DIY record labels, and a crucial fixture in the neo-folk renaissance that has become one of the decade's most pervasive music trends. Founded by Michael Gira (formerly of the long-running band Swans), Young God staked its claim on the landscape in 2002 by signing a then-little-known "freak folk" artist named Devendra Banhart.
Gira released Banhart's first three albums, expansive and scene-defining works bearing the homemade-yet-fine-tuned aura that the label has made into a philosophy (Banhart has since flown the coop and appears hell-bent on becoming the ur-hippie). Young God found similar success with the increasingly unclassifiable road warriors of Akron/Family, and Gira's own band Angels of Light continue to improve and gain fans.
So yes, it's a pretty big deal that Portland's pre-eminent neo-folk supergroup Fire on Fire landed a record deal with Young God, and that their self-titled debut EP proves worthy of its new company. Like most of their labelmates, the band are willfully unique; specialty instrumentalist Tom Kovacevic gives exotic adornment (of tamburitza, nay, jembe) to each song, and perhaps you've heard Colleen Kinsella's achy trill or Chriss Sutherland's guttural moan before? The real ace up this fivesome's sleeve, though, is that they're doubly — or is it quintuply? — singular. Each performer, both historically and within Fire on Fire, has such a distinctive voice and songwriting sensibility that the result of their collaborations and harmonies feels like a fluke that disregards the laws of chemistry. Marvel Comics's next superhero is a five-headed monster living next to some oil tanks in South Portland.

Fire On Fire | released by Fire on Fire | performing with Death Vessel | 10 pm October 5 | at SPACE Gallery, in Portland
The EP's five tracks follow a straightforward formula, musically. Micah Blue Smaldone's upright bass usually provides the foundation, and a swirl of acoustic guitars and banjos maintain the perpetual motion of these four-to-eight minute songs. Kinsella's wry yet beatific warble begins "Hangman," which employs the band's quirky sense of humor ("You've got to have a friend/Even the worst of men has friends/Even the hangman has friends") to project a message of warmth and hope in the face of tribulations. A simple sentiment, sure, but this is folk music to the core, and the album is rife with reminders that now is a good time to have some pals around to face the world with.
Caleb Mulkerin leads "My Lady Coffin" with a crackled wail and pregnant musings on life, death, and mankind causing its own death. The track highlights the volcanic potential of the Fire on Fire chorus, and the group take it to church with incantatory suggestions ("The hourglass skins on the nightingale of time/These days we're too busy to stand in line") and pastimes worth revisiting. The presumably Bush-bashing ("Our shifting fate heaped on your stinking plate") "Amnesia" is a rousing highlight, with a gnarled electric guitar breakdown that ushers in a soulful scat session by Kinsella.
The ponderous "Liberty Unknown" may be the EP's only soft point; despite superior songwriting, the track is too spare and airy for most of its seven minutes to plant its seed. Another somber epic, Chriss Sutherland's "Three or More," fares better with a persistent banjo lick and Sutherland's suspenseful, eventually wrenching delivery.
In the realm of local music, it's rare to hear an album that survives mixing and mastering with a band's essence — the atmosphere of their live performances, the depth of their personalities — intact. This EP sounds exactly like what a Fire on Fire album ought to sound like, which is no small feat considering the stature of these musicians as individual performers. Maybe we have the Young God crew to thank for that, or maybe a supremely experienced band, but regardless: Fire on Fire, welcome to Young God; Young God, welcome to Maine.
Just one other thing: Micah needs to sing more next time.